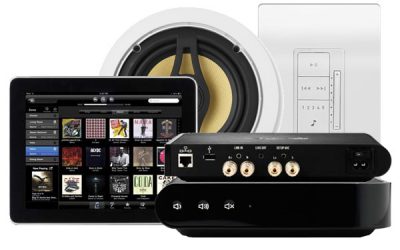 Premium Multi-Room Audio Package
---
From $3,699.00 Fully Installed
Multi Room High Fidelity Audio Package including fast, convenient keypad control to frequently used settings like Volume, Mute, Play/Pause, Skip and 5 x quick select presets.
2 x rooms of your home filled with NuVo High-Fidelity Multi-Room Audio, access to endless music options including your High Resolution Audio files & USB 2.0 device connectivity, control all your music with one simple App on Apple or Android devices, professionally installed and integrated into your home with the equipment installed out of sight liberating your bench-space

Package includes:
2 x NuVo zone players
2 x NuVo POE Keypad controller
1 x NuVo Dual-band Wireless Gateway/Access-Point
2 x pairs of in-ceiling speakers
Speaker cable
Data cable
Add 1 x extra zone into another room inc. speakers and keypad control, fully installed for only $1,299.00!
*Standard installation is based on brick veneer construction with ceiling access, working internet connection for music services EG. Pandora, Spotify, Tunein, Deezer etc. and requires your iOS or andriod devices for system control.